Are you suffering from mold on your bathroom ceiling? Have you once and for all made up your mind that it's time to remove mold and mildew?
Unless you have a squad of cleaning ladies moving from room to room in your house daily, you may eventually experience a widespread household malady known as Stachybotrys Chartarum or the dreaded lack Mold'.
It does not mean you are not a good housekeeper. This problem can occur anywhere with excess moisture combined with warm temperatures and little air circulation.
This article will discuss several common ways on how to get rid of mold on the bathroom ceiling and off different surfaces using everyday products found around the home.
At any time, you can scroll down to the bottom of this article and see a list of products that are mentioned in this post. Click "View Products" to jump to the section now.
Table of Contents
Remove Mold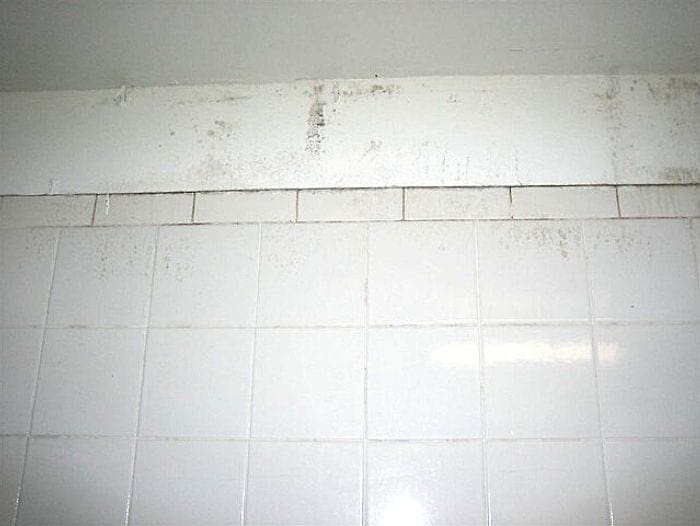 Bathroom walls and showers are the perfect environments for growing black mold. Warm, non-circulating air, a frequently damp surface, and a lack of direct sunlight promote mold growth. Add to that that it is not easily reachable, therefore not as likely to be cleaned regularly.
One environmentally friendly, cost-effective, and chemical-free alternative to removing your problem without harmful chemicals is to use common white distilled vinegar.
How-to Steps
How to Remove Mold From Bathroom Ceiling
The time needed: 1 hour, 10 minutes.
1. Buy a Spray Bottle
Purchase a good quality spray bottle with an adjustable nozzle or a small garden sprayer if you have a large ceiling to clean.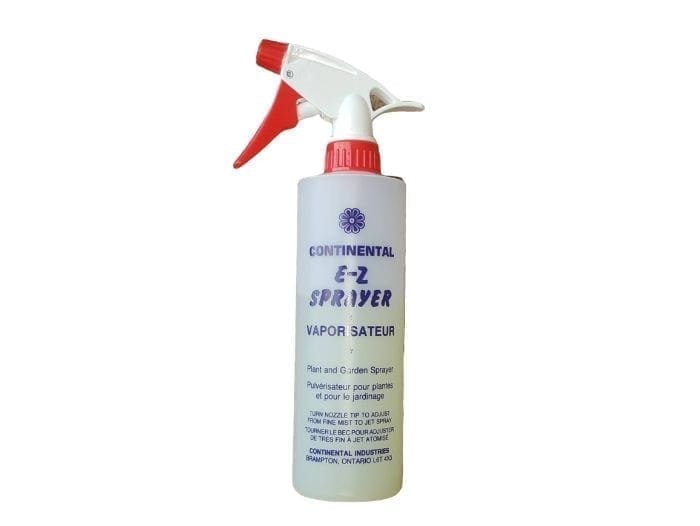 2. Spray Problem Areas With Vinegar
Fill the bottle with undiluted white vinegar and spray the problem areas. Spray the entire ceiling, not just the moldy areas, as the beginnings of an area of black mold growth are invisible to the naked eye. Let the undiluted vinegar soak for at least an hour, rinse, and repeat. This will start to remove the stains.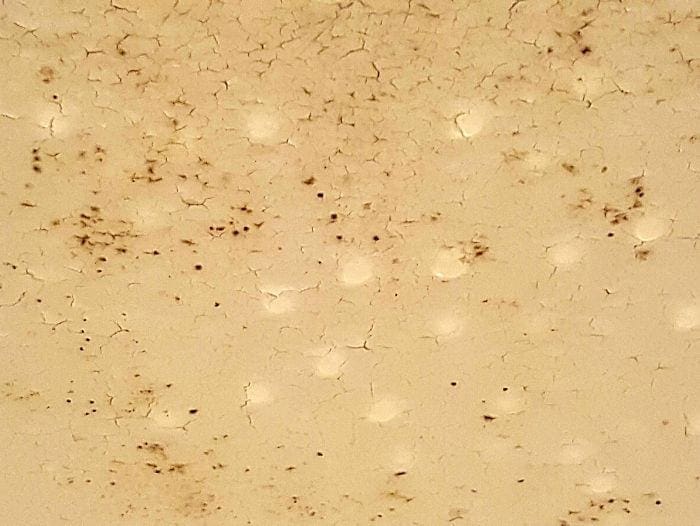 3. Rinse With Water
A second bottle with fresh warm water is helpful if you do not have a hand-held shower head to rinse with.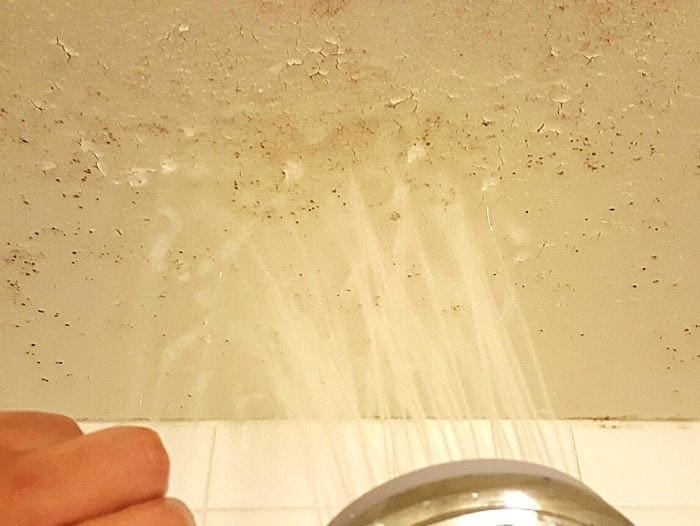 4. Brush Difficult Areas And Let Dry
After the second treatment, use a soft brush on any stubborn areas, rinse and dry. Be careful using a ladder on the shower floor, and it may be slippery. An electric leaf blower will hasten the drying process. For heavily textured or popcorn' ceilings, gently blot the surface with a soft towel to avoid ruining the finish. Watch our step-by-step how-to clean mold off bathroom ceiling Video for more details.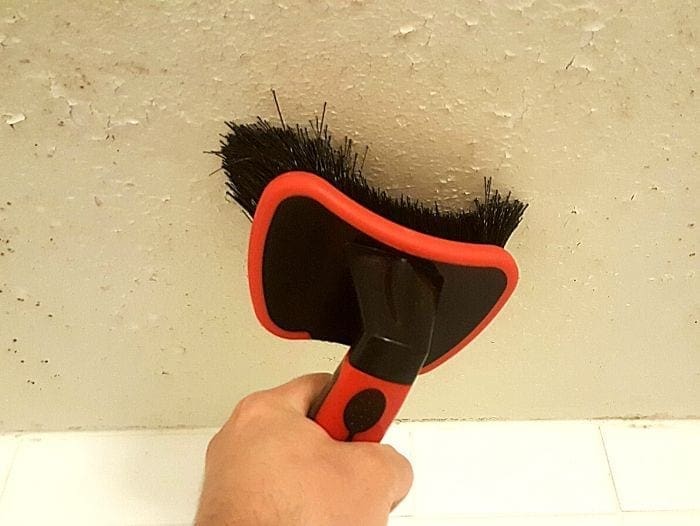 How-to Video
Please wait for the video to load below, then click play.
You can use vinegar on shower tiles, ceramic flooring, porcelain thrones, and sink fixtures.
However, since vinegar has powerful acidic qualities, vinegar should not clean hardwood floors, waxed furniture, granite, or marble stone. It would be best if you NEVER mixed vinegar with part bleach.
Using Hydrogen Peroxide
Another common product used to clean and remove bathroom and shower mold is Hydrogen Peroxide.
Many use Hydrogen Peroxide to kill and prevent mold and swear by this method.
Remember when Mom used to pour it full strength on your scraped knee? How it fizzed and foamed and stung a little bit? Imagine giving mold spores the same treatment.
Better than bleach, which only irritates mold and does not kill the roots, 3%-6% Hydrogen Peroxide kills mold down to the roots and does a good job of dislodging the growth so you can rinse it away.
It can be used in the same way as vinegar to wipe the mold off the ceiling. Soaking time is about the same, depending on the growth's seriousness.
As with vinegar, or any other liquid cleaning chemical, you should never mix it with another cleaning agent! Combined, two good cleaners will not make a super cleaner, but they can make you super sick.
Remember to open doors and windows when cleaning and leave the room if you start to feel dizzy, experience watery eyes, or develop a headache.
Wear rubber gloves when using this or any other cleaning method where chemicals may encounter your skin. Safety glasses are also recommended.
Baking Soda And Borax For Killing Mold
For stubborn stains, mix two parts Baking Soda with one part vinegar and one part water. Spread the thick mixture on a moldy area and let it dry.
Gently scrub the mixture, rinse, or wipe clean and repeat if necessary. This method works well on ceilings, where a liquid may drip off onto the floor or into your eyes.
Borax is also another powder-form chemical that can get rid of mold.
Mix one part borax (NOT Boric Acid) to 16 parts water, or one cup to a gallon of water for spray applications.
Use a thicker mixture on surfaces where you don't want to use much water, such as drywall or hard-to-dry fabrics.
Killing Mold On Porous Surfaces
Killing mold on porous surfaces presents a challenge to DIY cleanup, as there is no way to tell just how deep the problem has penetrated the surface.
As in the case of a leaky roof or plumbing, it may be that the issue has penetrated completely through the host material.
If this is the case, throw up a white flag and call in a mold problem remediation professional.
If you have water leaks, no amount of cleaning will remove the issue if the root cause is not addressed, and this type of repair is beyond the scope of this article.
Surely, if your problem is limited to the outer layer of your porous surface, killing and cleaning mold spores is similar to the process used for non-porous surfaces.
Use vinegar, diluted bleach, or Hydrogen Peroxide. Just use lesser amounts. For better results, use a mold spray.
How to Remove Mold From Drywall
You do not want to scrub a surface like painted drywall as vigorously as a tile shower, and it could damage the surface and create another problem altogether. For more info, watch our how to get rid of mold off the bathroom ceiling video.
Spray, let sit, then wipe with a damp cloth or blot dry with a sponge.
Leaving a small amount of the solution on the surface can help prevent or discourage mold spores from taking root and growing again.
You can also use a product such as Concrobium Mold Control to get rid of and prevent mold from returning.
Of course, the best method for treating it is not to give it a chance to grow in the first place.
Run your air conditioner regularly, and replace the filters often. On mild days, open doors and windows, pull back curtains and draperies to let the sunshine in, and control the humidity levels.
View Products
Bathroom Mold Sprays
Products from this post.
Jump to Product:
Concrobium Mold Control (Our Pick)
1. Concrobium Mold Control
See it on Amazon
2. Best Mold Spray
FAQ
What is the best way to get rid of mold on bathroom ceiling?
Place vinegar in a spray bottle and spray the vinegar in the affected area. Scrub, rinse, and repeat. For better results us a Concrobium Mold Control spray.
Does Hydrogen Peroxide kill mold?
Yes, it gets rid of mold starting from the root. Use a Mold Spray that includes Hydrogen Peroxide.
Can I use Apple Cider Vinegar to kill mold?
Apple cider vinegar will also destroy mold, which may stain porous surfaces. Avoid using it for anything but salad dressing. Use Mold Spray instead.
Does Clorox get rid of mold?
Bleach can irritate mold and does not attack the root of the problem. Use Hydrogen Peroxide instead.
Do Mold Sprays work?
Absolutely. Concrobium Mold Control is a powerful, effective line of mold and mildew removal products specifically designed to work in the home or other water-damaged environments where mold usually thrives.
It contains two potent ingredients: Siloxane (the only EPA-registered antimicrobial that actually attacks dormant spores) and Chlorine Dioxide (a biocide).
Siloxane is green in color because it "seeks out" only those forms of mold which have yet to release their spores into the air – en route for becoming invisible problems you might never find. You can order Concrobium Mold Control to stop mold from growing.
Conclusion
Mold problems happen, but now you know how to clean mold off the ceiling and prevent mold using things you already have around the house!
To prevent bathroom mold, don't sometimes forget to leave your windows open, doors open, and leave the exhaust fan running more than usual. This will lessen the chance of mold growth — We hope this article was helpful, and now you know how to remove mold from bathroom ceiling. Now you can view products.
Our Related Posts