Can I use Tea Tree Oil for natural mold removal? There are many different ways to get rid of mold, and this article will discuss some of the most effective methods.
Mold has no known cure, but with some simple tips on how to kill mold naturally, you'll be able to get rid of it from most areas of the house without having to spend a fortune.
We got a few How-to tips, and we try to answer your most frequently asked questions.
Please remember that you can scroll down to the bottom of this page and see a list of products mentioned in this post. Then, click "View Products" to jump to the section to order your product.
With that out of the way, let's get into this article!
Table of Contents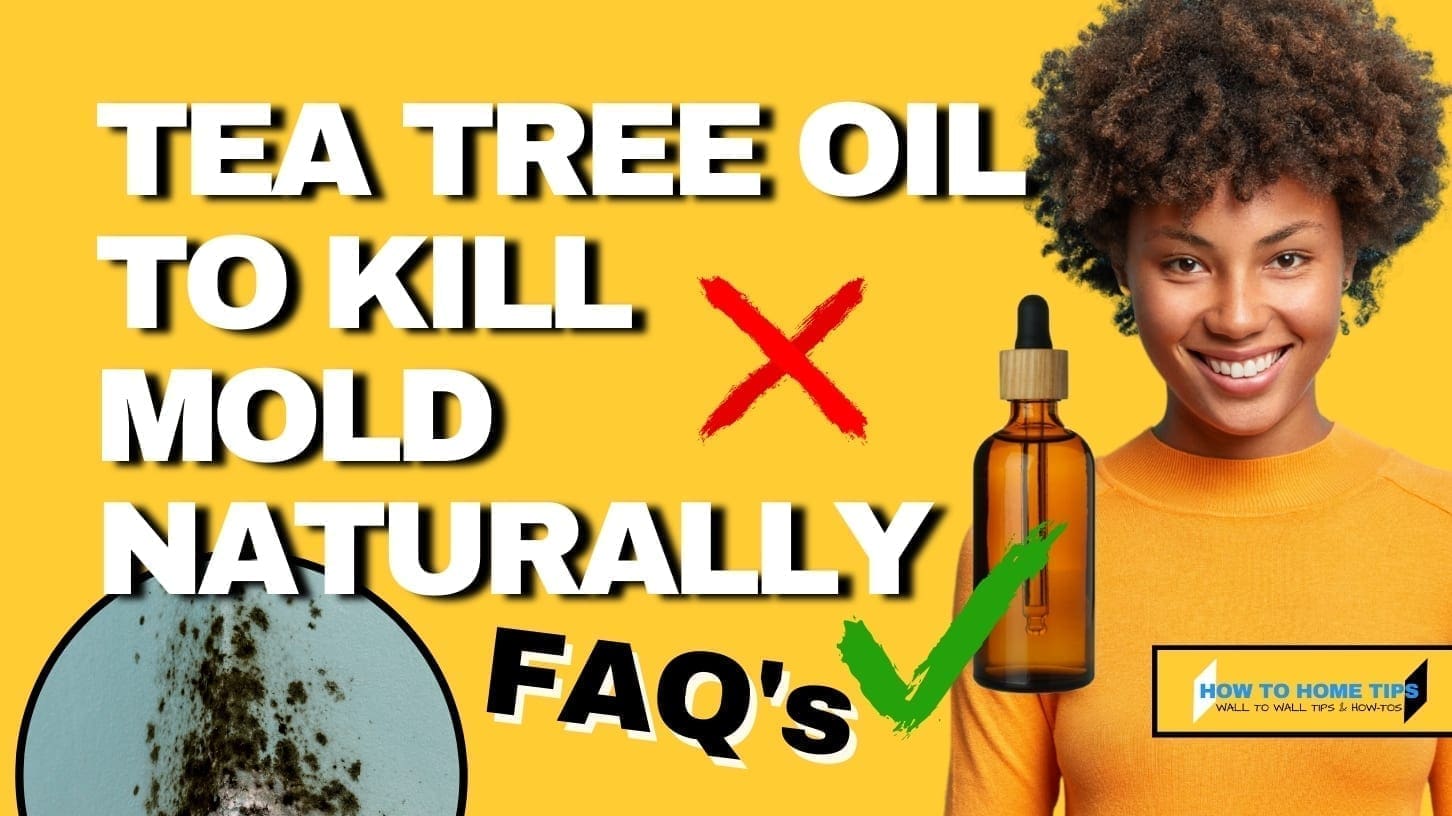 Kill Mold Naturally
Mold is a living organism that feeds off of moist surfaces. In extreme cases, mold can be toxic and cause health problems such as allergies, asthma, and even cancer.
Mold thrives in the dark places in your home where it's not visible to the naked eye, like under sinks or behind walls.
Side note: If your mold problem is on the bathroom ceiling, you might want to read our post on:
Black Mold is not something you want to deal with, and it can be hard to get rid of.
If you allow it to sit, left untreated for too long, this microscopic fungus could spread throughout your whole house and ruin your belongings as well as compromise your health, making you sick.
Fortunately, there are ways to get rid of mold without using any harmful chemicals or bleach! One way is to use a Tea Tree Oil cleaner for removing it and prevention.
Tea Tree Oil Cleaner
A natural solution for getting rid of mold in the home is Tea Tree Oil. It can be extremely effective at cleaning the bad spores throughout your house if applied correctly. It has many benefits versus harmful chemical cleaning sprays and ones that are bleach-based.
Besides being essential, it has an earthy smell that may help mask odors, which most other cleaning products can't do. It's also great for prevention!
This is just the tip of the iceberg, so keep reading if you want to understand how it works, learn the proper way to prepare the solution, and learn how to use it and where to order it.
Tea Tree Oil For Mold
It's well-known that cleaning with Tea Tree Oil is a killer remedy used to treat mold and mildew, as it has potent anti-fungal and antibacterial properties.
Remember, antibacterial properties are substances that block or destroy bacteria. They stop bacteria's growth by damaging their cellular walls, inhibiting their metabolism, and impeding them from dividing.
It's also a traditional agent used in the home to prevent bacterial growth and keep surfaces clean.
It works by destroying the bad spores present in your home's air, which will help prevent new mold growth in your house and especially in your damp bathroom.
It's environment-friendly!
It is a therapeutic grade essential oil that has been traditionally recognized for its antifungal properties, making it one of the most popular actual answers to anti-fungal treatments.
Originating from the Melaleuca alternifolia plant species found in Australia, it has antioxidant and antibacterial properties, making it an excellent choice for organic and humane detergent material.
Cleaning With Tea Tree Oil And More
Many people don't know this, but you can use Tea Tree Oil for mold removal, which makes an excellent multipurpose cleaner. It's natural and eco-friendly, making it perfect for sensitivity to harsh chemicals or an essential cleaning product.
The best part about using it as an all-purpose cleaner is that you can use it on virtually any surface in your home! From the kitchen counters to the bathroom sinks, pretty much anything goes with this versatile and powerful little bottle of goodness.
When applied correctly, It has been used traditionally to treat many skin conditions such as acne, athlete's foot, dandruff, ringworm, sunburns, insect bites, and stings.
Furthermore, one can use this essential oil to clean cuts and scrapes. In fact, It is a powerful antiseptic agent that gets rid of germs without harming human cells or tissue.
Its anti-inflammatory properties help reduce swelling too. However, always consult your doctor before using it as a topical treatment.
In the next section, you will learn how to create your solution using the proper liquid ratios.
How-to Steps
How to Use Tea Tree Oil For Natural Mold Removal.
The time needed: 1 hour, 10 minutes.
1. Find The Mold In Your Home
The first step, identify where any mold growth might be in your home. This could include areas with water leaks or moisture problems like your bathroom, kitchen, basement, or laundry room.
Ensure you wear protective gloves and a good quality face mask, preferably an N95 face mask. You should wear a mask whenever you handle any materials contaminated with mold spores.
2. Essential Oil For Mold
Next, you'll want to add and mix 1 teaspoon of Tea Tree Oil per 1 cup of water. Blend it in a spray bottle and shake it up, so everything's mixed.
Additionally, you can also mix 1 teaspoon peppermint extract into the water for an added fresh scent! So now you have your home remedy spray for mold removal!
Using it with vinegar: While the vinegar and Tea Tree Oil mix is ideal for a range of household tasks. However, it may not be safe to use on marble or granite.
Remember, when cleaning with it, make sure to test in an inconspicuous area first, let it sit, wipe and see what happens. Then, if your test surface looks good, you can move ahead. Start by adding 10 drops mixed into 2 cups of hot water and 1 cup of distilled white vinegar.
3. Choosing The Right Spray Bottle
Pour this mixture into a good-quality spray bottle for easy application around the problematic areas.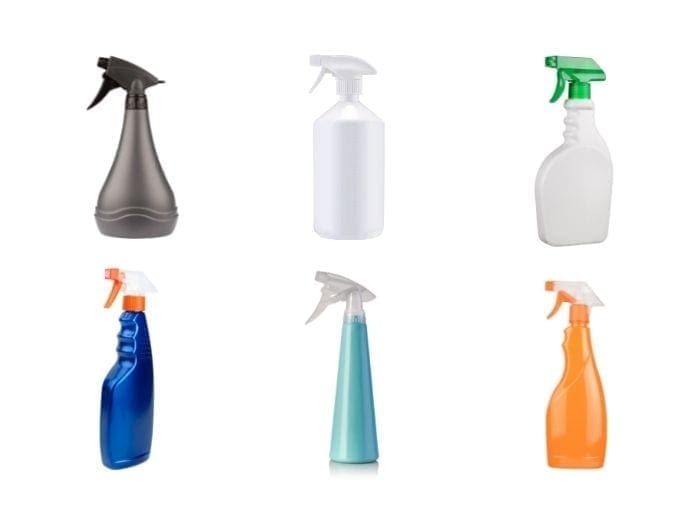 4. Remove Mold in Your Home
Moisten the area around the moldy spot with a spray or a sponge or rag. Then leave it for at least 1 hour or until all mold spots are removed.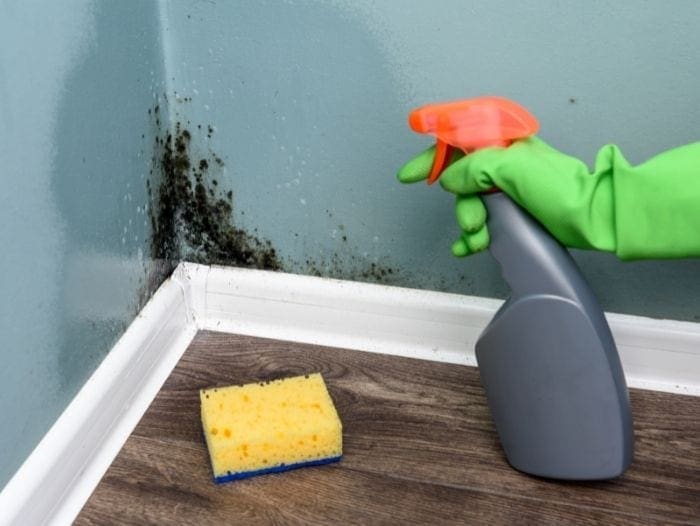 Your home remedy cleaning solution will start doing its job. Now that you have your essential oil that kills mold let's move on to the next step.
5. Scrubbing The Problem Area
Scrub and wipe off any remaining debris using your chosen surface cleaner. If needed, scrub to get rid of stubborn bits using a soft brush before wiping down the cleaned surfaces with a sponge soaked in clean water.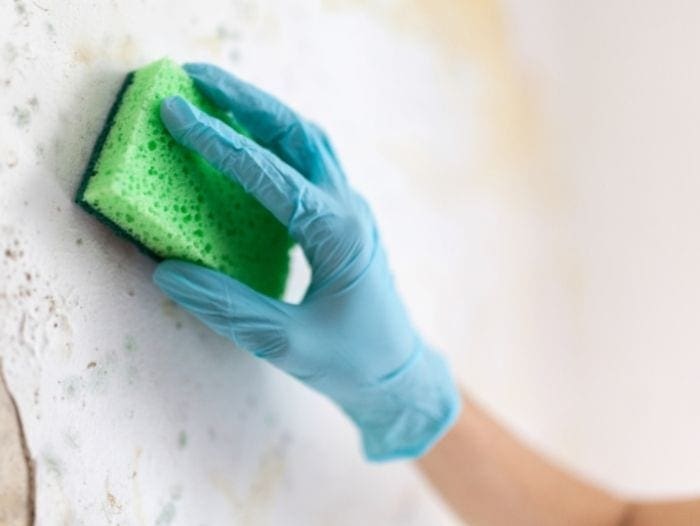 Now give it time to dry. This will help prevent mold from growing back in the affected area! So now you know how to use Tea Tree Oil For Killing Mold! Keep reading our article as we have more tips for you.
How-to Video
View Products
Best Tea Tree Oil to Kill Mold
Get rid of mold naturally with these products.
Jump to Product:
Handcraft (Our Pick)
1. Handcraft
See it on Amazon
Handcraft Product Features
100% natural and contains the maximum therapeutic benefits
Handcraft is unique in the fact they test each bottle by an independent lab for its constituents. This ensures every customer gets a bottle of pure oil with quality guarantees!
Premium Glass Dropper – With our amber glass bottle, you can be sure that your purchase is protected from any harmful UV rays. With the included Glass Dropper, you'll never have to worry about wasting a drop of this precious liquid!
Bottled in the USA – Handcraft Blends sources their oils from the world over to ensure that they are authentic. They go through a rigorous testing process, and once completed, each oil is bottled in an FDA-approved cGMP facility for final quality assurance before being sold.
Customer Reviews: "Great for making home made Tea Tree Oil mold spray for mold removal."
Handcraft Additional Info
Handcraft Tea Tree Essential Oils are made with only the highest quality tea tree oils from Australia's east coast. In fact, they contain nothing but pure Australian tea tree oil. No artificial ingredients or fragrances were added, and no isolates either!
Our pure and artisan quality oils are all blended with therapeutic grade carrier oils. Handcraft offers the best of both worlds — certified organic ingredients and all-natural botanical extracts without any harsh chemicals or synthetic products.
Our therapeutic grade oils are never diluted or cut with fillers, as this goes against all that Handcraft stands for in providing premium quality goods. For the best relaxation and stress relief, make Handcraft part of your wellness routine.
This Handcraft Tea Tree Essential Oil is 100% natural and contains the maximum therapeutic benefits. Experience it today.
2. Artizen
See it on Amazon
(As an Amazon Associate I earn from qualifying purchases.)
Artizen Product Features
100% PURE AND NATURAL – Undiluted. Therapeutic Grade. Perfect for Aromatherapy, Relaxation, Skin Therapy, and More!
DIFFUSE OR TOPICAL – Our Tea Tree Essential Oil is perfect for a wide variety of uses. Diffuse to purify the air in your home or office, or apply topically to help reduce acne breakouts and blemishes on your face or body. Soothe skin conditions, such as psoriasis, dermatitis, and eczema. It's also great for massaging sore muscles or joints!
GLASS BOTTLE WITH EYEDROPPER – Artizen tea tree oil is infused into high-quality glass bottles with eyedropper that help get the perfect dose every time. Push as much or as little as you want out of this easy-to-use, well-thought-out bottle.
INGREDIENTS – Melaleuca alternifolia (Tea Tree Essential Oil)
Customer Reviews: "The dropper that comes with the bottle makes it easier to use."
Artizen Additional Info
Artizen Tea Tree Oil is an aromatic, pure, natural concentration of the oils of Melaleuca Alternifolia. Its mellow aroma and medicinal properties make it perfect for use in everyday life.
From aromatherapy to relaxation, skin therapy to allergy relief, this one product has endless possibilities! Moreover, it's undiluted and therapeutic grade, so you'll never have a diluted or low-quality product again.
Our oil is made from a world-famous, Australian distilled tea tree used for centuries by Aboriginal tribes to heal skin issues in their natural environment.
While some companies don't test their oils, we routinely have our oils tested to ensure that ours are made of nothing but high-quality and renowned Australian essential oil. We stand behind what we sell because you deserve the best!
Artizen Tea Tree Essential Oil is the purest you can buy.
3. Gya Labs
See it on Amazon
(As an Amazon Associate I earn from qualifying purchases.)
Gya Labs Product Features
CLEANS THE AIR – Gya Labs Tea Tree Essential Oil Cleans and Freshens Air
HERBACEOUS – Perspires a clean herbaceous aroma of native Australian Tea Trees.
DIFFUSE – Add a few drops to your diffuser, and enjoy the relaxing aroma. Add 2-3 drops of essential oil to a diffuser. Enjoy the aroma and benefits!
TOPICAL – Apply directly to the skin for an invigorating sensation. Apply 1 drop of essential oil to your desired area. Massage in for best results!
FOR SKIN CARE AND HAIR CARE – This oil is great for both skin and hair care. It can be used as a toner or moisturizer, or simply apply it directly to your scalp to stimulate hair growth.
Customer Reviews: "We have been using this tea tree oil for black mold for a while now, and we are very happy with how well it works."
Gya Labs Additional Info
Gya Labs Tea Tree Essential Oil is a 100% pure and natural essential oil. It is steam distilled from the leaves of native Australian Tea Trees.
This powerful and versatile essential oil is great for mold prevention. It is antimicrobial, antiseptic, antiviral, and antibacterial. Gya Labs uses products that have been steam-distilled to retain the maximum therapeutic properties from the leaves of Melaleuca alternifolia trees found in Australia.
Melaleuca oil is a versatile essential oil used for aromatherapy, cleaning, and personal care. It has antiseptic properties that make it an effective ingredient in soaps and cleaners. It also has anti-inflammatory properties that make it useful for relieving pain from arthritis and other inflammatory conditions.
The most popular essential oil in Australia is Melaleuca Oil. This powerful, multi-purpose treatment helps relax your mind and body while relieving stress, tension headaches, muscle aches, and pains.
Gya Labs Tea Tree Oil has a natural ingredient that is 100% pure Australian Tea Tree Oil with no additives or fillers, making it perfect. As a result, you can be sure that you are receiving the best quality product possible. So order your today.
FAQ
Does Tea Tree Oil kill mold?
It's a natural fungicide that is effective at killing mold spores throughout the home. It's also environmentally friendly, and small amounts can be extremely effective as a natural mold-killing solution. Environmentalists favor it because it's so safe for everyone. Hopefully, this answers your question.
Where does tea tree oil come from?
Tea Tree Oil comes from the Melaleuca Alternifolia plant and is a type of natural degreaser. Grows wild throughout Queensland and New South Wales, Australia. Has been used for centuries. It is antimicrobial and antiseptic that has been used for centuries to keep people healthy. It can be applied topically or diluted in water for steam inhalation purposes. The oils are extracted by distillation through steam or boiling, which leaves behind an oily liquid substance with strong cleansing properties. This liquid contains terpenes such as cineole and camphor, making it effective at fighting bacteria that cause acne breakouts and other skin problems like athlete's foot!
What kills black mold naturally?
One of them is its effectiveness in the fight against black mold. Tea Tree Oil (Melaleuca Alternifolia) is a natural fungicide and antiviral used for centuries to help with many ailments. One of them is its effectiveness in the fight against black mold. In fact, it gets rid of over 100 types of bacteria and fungi, which makes it an effective cleaning agent.
Can tea tree oil be mixed with vinegar?
Yes! Mix 1 teaspoon of vinegar and a few drops of pure Tea Tree Oil in a container of water to form an ideal disinfectant for surfaces, like countertops and tables. This will create a potent mixture that will combat even the toughest fungi spores on contact. You can get rid of fungus before it spreads and causes damage! Mixing the acidity from the vinegar and the benefits from the oil creates something that can kill nearly any type of bacteria on contact. Pour some over a cutting board before using it to prevent cross-contamination as well! And don't forget: use it in your kitchen to make sure all those dishes are clean too! Vinegar is just one more way to help maintain healthy living habits, and so is using essential oil for mold removal.
What is the meaning of antifungal?
The definition of anti-fungal is any agent that destroys or stops the growth of fungi.
What does antioxidant mean?
Oxidants are substances that can cause damage to our body's cells, tissues, and DNA. Antioxidants work by neutralizing oxidants or preventing them from being produced in the first place.
Can diffusing essential oils kill mold?
Diffusing essential oils can help get rid of mold and mildew, but it is not the most advisable solution. You need to remove the affected area for full effectiveness and replace it with new drywall or wood as necessary.
Conclusion
Mold is considered by many to be one of the most toxic substances on earth and can cause respiratory problems for those who are sensitive or allergic.
It needs a warm and humid environment to grow and feed on organic matter, including wood, paper products, insulation, and carpeting. Conversely, it thrives in moist environments, such as bathrooms with showers and kitchens with dishwashers.
Black mold is one of the most dangerous types because it produces toxic substances and can cause respiratory problems like coughing, asthma attacks, and difficulty breathing.
The best way to removing black mold is by using a mold cleaner spray or an antimicrobial cleaner with active ingredients like Tea Tree Oil.
However, remember the ultimate way to win the battle is not to allow it to grow in the first place!
Our Related Posts